nolitto3d
Regular price
Sale price
$38.00 USD
Unit price
per
Sale
Sold out
Tactile Feedback Mod for the Thrustmaster TH8A/TH8RS
For the serious Sim Racer who wants that extra flexibility and extra durability!
Please note:
Colours may vary from the ones in the photos.
Not applicable to Sequential Mode (does not affect sequential mode). You do not need to remove the Clixbeetle-GT V2 when installing the TH8A Sequential Mode Plate
International buyers (from outside Australia) – please note: Import duties, taxes, and charges are not included in the item price. These charges are the buyer's responsibility.
Please check with your country's customs office or website to determine what these additional costs may be prior to buying.
Features:
Increased Gear Shift Resistance
Laser-cut stainless steel plates - To allow for spring-pressure adjustment (also provide extra durability)
Spring-loaded steel ball bearings for improved tactile feedback
Adjustable ball bearing spring pressure
Improved immersion as shifter feels more like a real gated shifter
Steel ball bearings make a nice metallic click when shifting gears
Printed in Premium PLA+ for strength and durability
Detailed installation instructions (download from our nolitto3d online store): https://nolitto3d.com/pages/clixbeetle-pro-gt-installation-instructions
Detailed Ball Bearing Spring Pressure Adjustment instructions (download from our nolitto3d online store) : https://nolitto3d.com/pages/clixbeetle-gt-spring-pressure-adjustment
As reviewed by Barry Rowland - Sim Racing Garage: https://www.youtube.com/watch?v=J9fm9POR4u8
View full details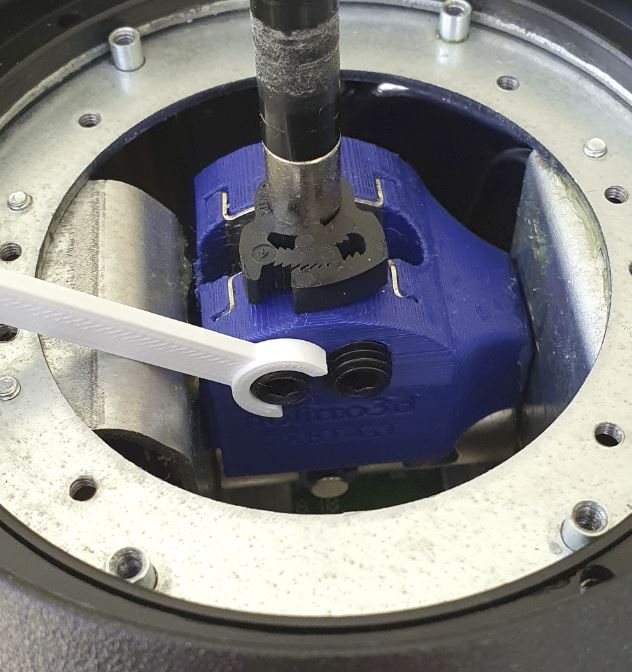 Works great!!!
Well constructed and great install instructions! Best advice, READ INSTRUCTIONS once through before even looking at a tool to take apart your shifter. It's all spelled out well and you will know what to expect.
love it so much
The installation was very easy, the feel is so good and there is so many adjustment that it can feel however anybody wants.
So much better than stock
Gives the Shifter a much better feel
I would give 5 stars. Sadly I have to retighen the screws once every couple of days. I like my shifting resistance pretty high and It seems that after some days the screws back up a little.
I guess I have to glue them in place.
Maybe you cold also provide a second measuring tool for people who like their shifting resistance tighter
Otherwise the mod is a must. The spongy feeling of the stock shifter is gone.
It's by far the best mod out there.
Clixbeetle GT Review
After doing some research on the various options available in the market to improve the Thrustmaster shifter feel, I decided on the Clixbeetle GT. Here is a summary of my experiences:
1) The Clixbeetle was shipped very quickly and I received it with 4 days of ordering
2) It was extremely well packaged
3) The quality and design of the Clixbeetle is far superior to the other options on the market. The 3d printing is excellent and the adjustable spring loaded balls allow for easy adjustment to control resistance.
4) It installs easily within minutes
5) After installation, some bedding in will occur in the first session of use. The shifter may feel like it has less resistance. Some readjustment will be necessary to regain the feel, it is normal to expect this.
6) The only thing I did was use a metal hose clamp instead of the plastic clip. The clip works well but a metal clamp is just stronger.
7) I also purchased the short shifter plate as well, I recommend that you do both Clixbeetle GT and short shifter plate at the same time.
Overall I am wrapped with the Clixbeetle GT and I would strongly recommend it to anyone keen to get better feel from their Thrustmaster shifter.
Great job Nolitto3d !
Cheers!